Home » See more
In-Dash Navigation Systems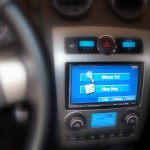 These systems are fully integrated in the car's dashboard like originally equipped ones, that you can order as an expensive option from the car manufacturer in Europe or US markets!
carNAVi offers integrated navigation systems for use in the Philippines and other South East Asian countries.
This high-end multimedia and navigation units are equipped with a 7″ TFT Touch-Screen the navigation part is working with dynamic GPS, speed sensors (for continuously navigation even if the GPS signals fails for short time) and a gyro-sensor (can measure car turns and acceleration).
If you're interested in those systems and would like to see a demo, please contact us.
carNAVi will offer more affordable in dash systems in the end of 2010! Stay tuned.