Home » Article
Newsletter July 2012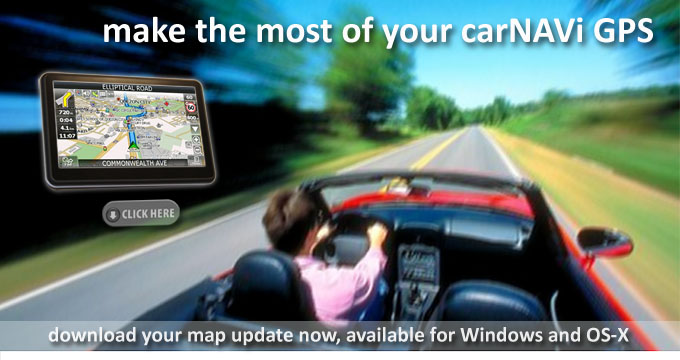 As roads are developing, so do our maps. Have your carNAVi as fresh as new, download and install the latest map update. As usual we offer just one easy to use installer that serves all models and is available for Windows and Mac OS-X.
The growing demand of travellers having US maps started the idea of providing free maps covering major US cities and other travel destinations.
We offer already quite a wide range of navigation devices and now we are proud to announce the release of another S-family model by next month.
The Philippine Government started Project NOAH, a very interesting and helpful tool.
Your carNAVi Team
---
Philippine map updated
We've added new roads, changed routing classes, added countless new Points of Interest and all new contributions received from you.
Download the installer for Windows or MAC OS directly from the links below:
---
New US city maps available
.
First city maps are available in the carNAVi Store with more to come soon. Only with carNAVi you can travel the world for free.
This international city maps are based on the brilliant Open Source project OpenStreetMap as one of the map sources, which offers the possibility to offer these maps for free.
---
Model outlook
.
The carNAVi S 400 set the standard for affordable and easy to use navigation devices in the Philippines end of last year.
With the growing demand of larger displays we are now introducing a new member of the S-family, the carNAVi S 500. This unit will be the most efficient navigation device with a large display in the market.
The S 500 will be available for a revolutionary price by middle of August.
---
Project NOAH
.
The Department of Science and Technology launched a project called 'Nationwide Operational Assessment of Hazards' (NOAH). This project is the response to President Aquino's instructions to put a responsive program for disaster prevention and mitigation in place, specifically, for the Philippines' warning agencies to be able to provide a 6 hour lead-time warning to vulnerable communities against impending floods and to use advanced technology to enhance current geo-hazard vulnerability maps.


Interactive flood map during typhoon Ondoy, 2009 from noag.dost.gov.ph

The project website offers graphical processed real-time data including weather outlook, Doppler-Radar graphics (visualization of rain), flood maps and many other information. Visit the projects webpage at http://noah.dost.gov.ph/