Home » Article
Newsletter September 2013

Have your carNAVi as fresh as new – download and install the latest map update. We offer just one easy to use installer that serves all models for Windows or OS-X.
A new model lining up with the S-Series has just been released. The all new S 510 got a new faster GPS processor, more memory and is only 11mm slim.
Getting a new carNAVi is now easier than ever. Now available at all BLADE stores nationwide.
Since beginning of 2013 we are building a new office. Be excited with us to see it's almost done.
Your carNAVi Team
---
2013 Philippines Map Update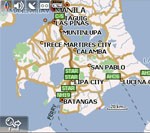 The latest 2013 map update brings new road developments in the country to your carNAVi. Download the installer for Windows or Mac OS-X directly from the links below:
Map Update Philippines (Windows) – Version: 07.2013, 34.3 MB
direct download (CDN) · Alternative BitTorrent Link
Map Update Philippines (Mac OS-X) – Version: 07.2013, 59.1 MB
direct download (CDN) · Alternative BitTorrent Link
Installation instructions or select 'Read more' on the download page.
---
New Model
carNAVi builds GPS navigation solutions for the Philippine market, that works straight out of the box. With the new S 510 portable GPS, carNAVi Corporation upgrades the ultimate S-series. The S510 gets a faster CPU, more memory and a slimmer body.
The all new S 510 comes with a large 5-inch flat touch screen and the developers have upgraded the GPS processor to 800MHz. More working memory beside its 4GB expandable memory to store navigation maps and multimedia content makes this GPS the most advanced in the market. This stylish new navigation device is available now for a revolutionary price.
See all details at the carNAVi Store's product page.
---
New Stores
Our partnership with BLADE started quite some time ago and we are very happy to announce the success of the cooperation of our two companies.
For you this means easily reachable stores, where you can try and buy all our products. BLADE offers our main product lines, you may avail financing options and perfect local product support.
Our team of carNAVi experts are roaming around the branches, educating the BLADE sales team and support them to show our costumers the advantages of carNAVi products.
Visit the where-to-buy section to see where carNAVi is already available.
---
New Office
New Office – it's almost done
Beginning of 2013 we broke ground for a new office building located at Visayas Ave in Quezon City. Finally after a lot of planning and even more work it's almost done. carNAVi and it's sister companies are planning to move in beginning of December. Please take note of our new contacts and address.
Taking care of the environment, the new office building will have it's own rain water regeneration, a 20KWp photo-voltaic solar power system, inverter cooling and of course modern IT and communication technology hosting carNAVi's network infrastructure.
.
Security at the carNAVi Store
We take the security and the safety of your data very seriously. We use the best tools and engineering practices available to build and maintain the carNAVi Store making sure that our store remains secure.
Your data are stored securely and backed-up. Your account transactions are protected by layers of security including Transport Layer Security (TLS) and Secure Sockets Layer (SSL) with AES 256-Bit encryption certified by GeoTrust Inc. Check your browsers address line to be assured that SSL is enabled: