Home » Article
Newsletter February 2015
Dear Reader,
since end of last year carNAVi maps are available for smartphones. Navitel supports real offline navigation, there is no need for an Internet connection to use your smartphone as a navigator on the road.
The app supports Android phones, Apple iPhone, some Blackberry devices and Windows Phone. You can test the app 7 days free of charge and get the unlimited version for only P1050.
Navitel maps are available for 59 countries worldwide including the Philippines. Just browse our new Navitel map section to see what's already available.
Your carNAVi Team
---
carNAVi map for smartphones
Now you can use carNAVi maps with your smartphone or tablet.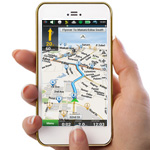 NAVITEL is a leading navigation solution provider for automotive usage and is truly multi-platform powerful turn-by-turn navigation with outstanding 3D graphics and real-time routing re-calculation. Worldwide more than 20 million driver are using NAVITEL.
ADVANTAGES
+ No Internet connection required for the use of the program.
+ No additional expenses on roaming or dependency on mobile data.
+ Access to maps at any time: Maps are downloaded to the device.
+ Map subscription for a limited period or unlimited.
+ Free 7 days trial, no need to purchase maps for testing
To get NAVITEL for your smartphone just search 'NAVITEL' in the app store (play store) of your device (listed as NAVITEL NAVIGATOR) or select the software platform from the link below. An unlimited version of Navitel is only around P1050 with lifetime free updates.
Visit the carNAVi Store or follow this link for details.
---
Philippines: 2015 map update available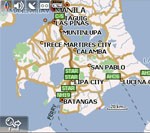 The latest 2015 map update brings new road developments in the country to your carNAVi. Download the installer for Windows or Mac OS-X directly from the links below:
Map Update Philippines (Windows) – Version: 01.2015, 44.27 MB
direct download (CDN) – Alternative BitTorrent Link
Map Update Philippines (Mac OS-X) – Version: 01.2015, 79.49 MB
direct download (CDN) – Alternative BitTorrent Link
Installation instructions or select 'Read more' on the download page.
Note: This update is only for carNAVi devices.
---
Navitel maps for 59 countries worldwide

Navitel Navigator is a precise offline navigation with free geosocial services and detailed maps of 59 countries. Try popular navigation for 7 days free!
______________________________
* 20M DOWNLOADS WORLDWIDE *
* TOP 5 NAVIGATION IN 12 COUNTRIES!*
OFFLINE NAVIGATION MAPS FOR PURCHASE
Albania, Andorra, Armenia, Austria, Azerbaijan, Belarus, Belgium, Bosnia and Herzegovina, Brazil, Bulgaria, Croatia, Cyprus, Czech Republic, Denmark, Estonia, Finland, France, Georgia, Germany, Gibraltar, Greece, Hungary, Iceland, Isle of Man, Italy, Kazakhstan, Kyrgyzstan, Latvia, Liechtenstein, Lithuania, Luxembourg, Macedonia, Maldives, Malta, Mexico, Moldova, Monaco, Montenegro, Netherlands, Norway, Poland, Portugal, Philippines, Romania, Russia, San Marino, Serbia, Slovakia, Slovenia, Spain, Sweden, Switzerland, Tajikistan, Turkey, Ukraine, United Kingdom, Uzbekistan, Vatican.
Get NAVITEL at your phones app store:
If you don't have an app store account, you can purchase a license at the carNAVi Store as well.