Home » Maps
Marikina Valley Fault Line GPS map overlay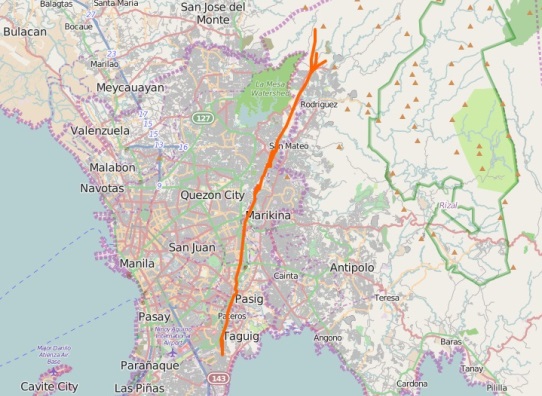 We created an overlay map of the Marikina Valley Faultine System in Metro Manila for your carNAVi GPS.
The GPS map includes the West Valley Fault and the East Valley Fault with detailed data from Phivolcs. The Faultline system will be displayed anytime on your carNAVi screen and is available at any zoom level.
Marikina Valley Faultine System for carNAVi GPS
Installs or updates an overlay map of the West/East Valley Fault Line System in Metro Manila
Metro Manila Faultline map overlay - Version: 1.0, 124.52 kB [exe]

The Marikina Valley Fault System, also known as the Valley Fault System (VFS), is a dominantly dextral strike-slip fault system in Luzon, Philippines. It extends from Dingalan, Aurora in the north and runs through the cities of Quezon, Marikina, Pasig, Makati, Parañaque, Taguig, and the provinces of Laguna and Cavite.[1]
57 subdivisions or residential villages are transected by the West Valley Fault, a 100-kilometer active fault that can generate a 7.2-magnitude earthquake.[2]
Maps recently released by the Philippine Institute of Volcanology and Seismology (Phivolcs) allow people to see the location of the West Valley Fault and East Valley Fault in Greater Metro Manila.
Source:
[1] Wikipedia: Marikina Valley Fault System
[2] More details available at rappler.com.